This page allows you to manage your buildings OR groups of properties. It is useful if the landlord own a whole building with multiple units OR if you need to bundle various properties together, for instance to distribute communal expenses. The user can enter exact percentage or shares for each property in order to ventilate the common expenses.
You can access this session from the Propriety submenu: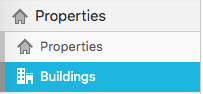 On this page you can:
Add a building
Modify a building
Delete a building
Before creating the building one must create the individual Properties. The Proprieties will then be linked together.